Unlock Drumagog 4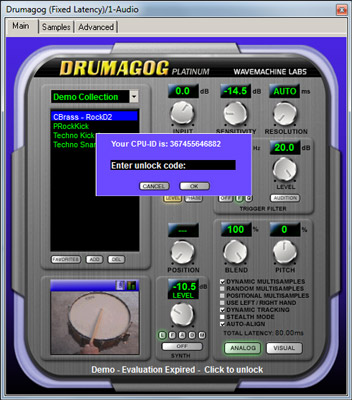 Please use this form to unlock your copy of Drumagog 4. Your unlock code will be e-mailed to you. Please add register@drumagog.com to your safe list/address book to ensure delivery of unlock code emails.
The 12-digit CPU ID can be obtained by selecting the "click to unlock" message at the bottom of Drumagog's "Main" screen. The CPU ID will appear in a separate window, and this is the window where the unlock code is entered to complete authorization.
Your name, e-mail address and phone number must match our records EXACTLY. Please be sure to enter the same information you provided when you ordered or registered Drumagog 4. This can be found in the invoice which was e-mailed to you.
If your e-mail address has changed, please provide your new e-mail address in the "Current E-mail Address" field. This form can only be used to unlock Drumagog 4. If you are unlocking Drumagog v3, please email us with your CPU ID at support@drumagog.com.
ATTENTION: If you purchased Drumagog 4 AFTER the release of Drumagog 5, you cannot use this form so please email us your unlock code request. Be sure to include your Email address, serial number, and 12-digit CPU ID. Send the unlock request to support@drumagog.com
User's Forum
Make sure to check our user's forum for troubleshooting tips: Drumagog User's Forum
E-mail Drumagog support
If you can't find your answer on the forum, please e-mail us: support@drumagog.com
Compatibility
PC Version: Drumagog works with all 32-bit VST and RTAS audio programs, including Pro Tools (versions 7 through 10), Cubase, Nuendo, SONAR (3 and higher), Live, Tracktion, SAW, Samplitude, Acid, Vegas, Sound Forge, Audition. Windows XP, Vista, and 7 are supported.
Mac OSX Version: Drumagog works with both G4/G5 Power PC Macs and Intel based Macs, and supports 32-bit VST, AU and RTAS audio programs, including: Pro Tools (version 7 through 10), Cubase (SX3 and higher), Live, Nuendo, Digital Performer (4 and higher), Logic (versions 7 through 9), Tracktion, and GarageBand. Mac OSX 10.4 through 10.8 supported.
User's Guide
Our extensive user's guide is available for download. Adobe Acrobat Reader is required to view the guide. To get the latest version of Acrobat Reader, click here.
---
&copy 1999-2021, WaveMachine Labs, Inc.